Project Update - September
15 September 2015
Work well underway at North Gawber Colliery
Following on from the successes at Rossington and Prince of Wales, VHE has been appointed by Harworth Estates to undertake Enabling and Restoration works at the former North Gawber Colliery site in Barnsley. The site has been proposed for redevelopment by Harworth Estates for up to 325 residential properties.
The scope of works to be undertaken by VHE includes significant earthworks involving breaking out structures and the crushing of hard materials. The site also contains several mine entries which will require treatment. Further works include the diversion of a watercourse, ecological translocation works, formation of an attenuation pond and installation of foul sewer as well as construction of a road, footpath, footbridge and cycle-way forming part of the new site infrastructure. To maximise the development area a reinforced earth retaining wall is being constructed utilising site won materials.
With site work well underway, our engineers have been able to re-asses the material movements and undertake a re-modelling exercise leading to substantial gains in the area available for development.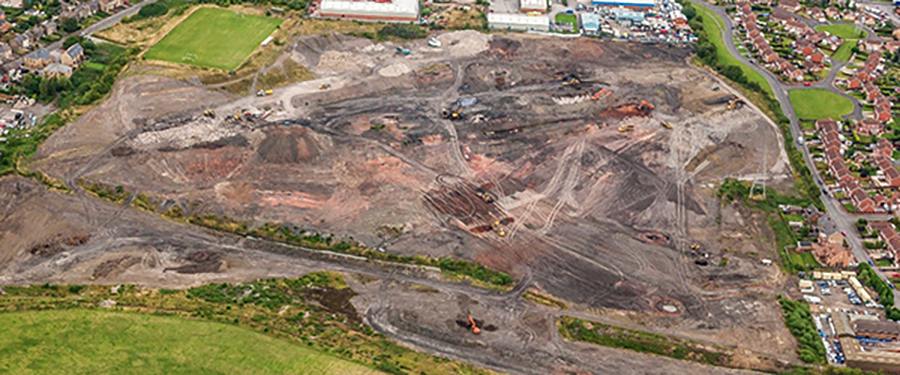 All systems go at Ackworth
Works are ongoing at the former Onward Holdings transport yard at Ackworth to create platforms and infrastructure for 280 houses.
VHE were awarded the site preparation contract, which combines remediation with infrastructure of roads, sewers and 4000m3 precast concrete Carlow contract by Strata Homes. The remediation includes the excavation and turnover of over 200,000m3 of former quarry backfill and the recovery and recycling of materials for use in the infrastructure of over 1.5km of roads with the drainage up to 5m deep.
Works on the precast, concrete Carlow are now complete meeting both programme and budget requirements. Design ground levels have been achieved, completely concealing the huge structure.
This is the third phase of works to be undertaken at this location by VHE on behalf of Strata Homes since 2008 creating more than 750 new homes.